Excerpts from 2008 Labyrinth Project Blogposts, Paul Soupiset
BY THE NUMBERS
11-course Chartres labyrinth
54.0 feet diameter
22.125 inch path widths (center-to-center)
Center circle is 13.5 feet in diameter (radius measurement from the center to the first circle would be 6.75 feet.)
Then each additional path is spaced at 22.125 inches intervals.
If I had to do it all over again, given enough land, I'd make wider intervals — 24" even.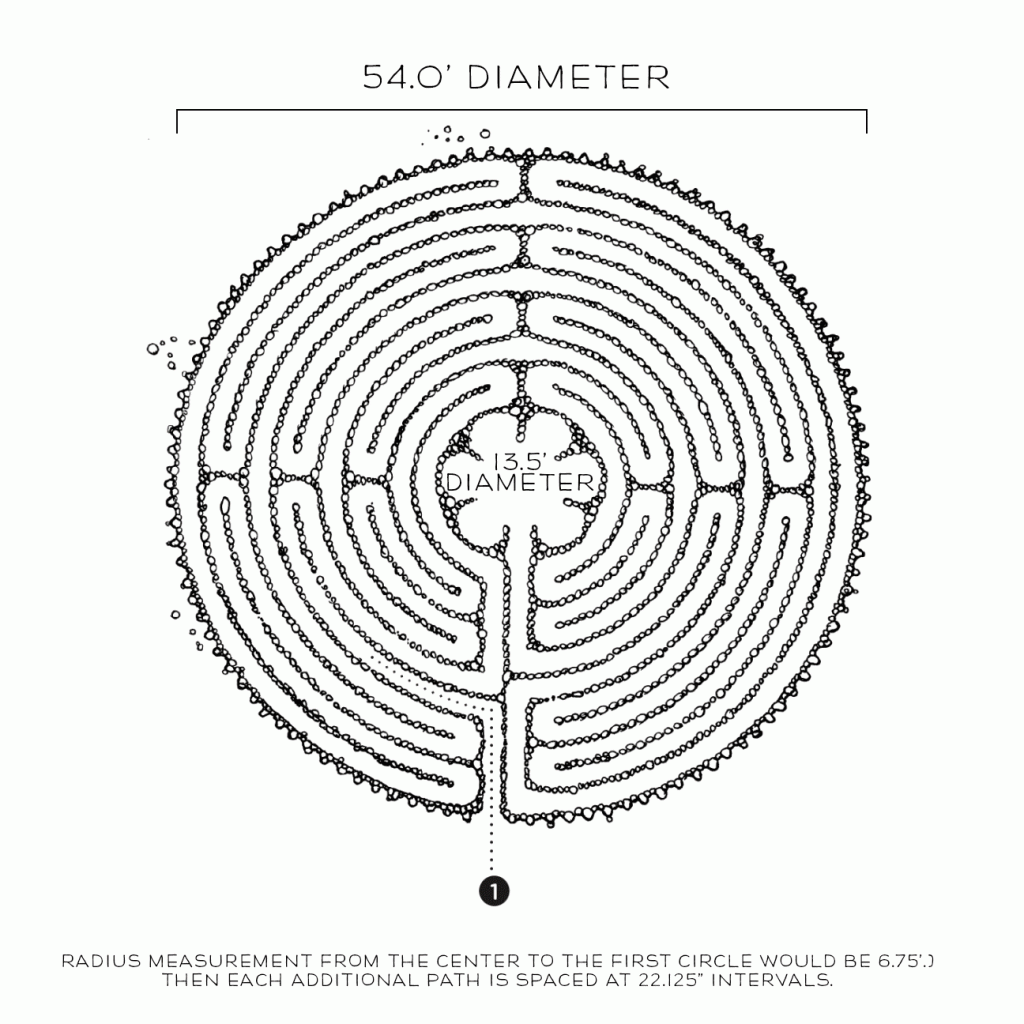 Feb 11, 2008



Initial Sketches:
(note that the original plan called for only 36′ diameter)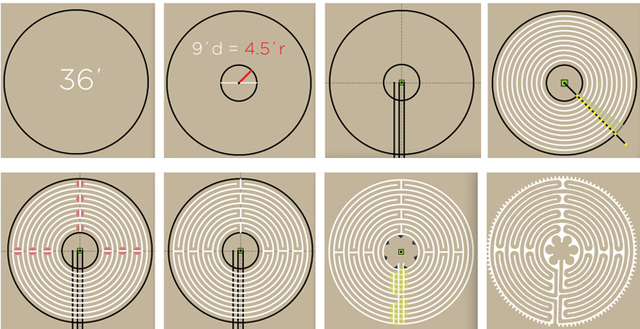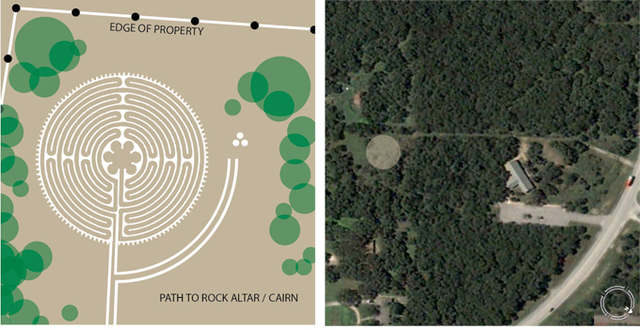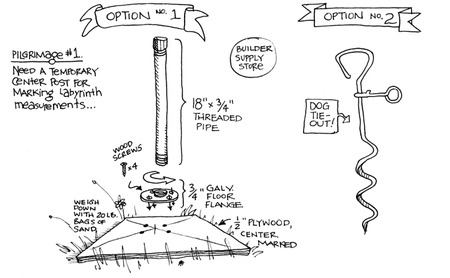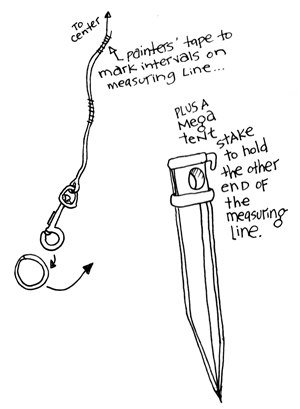 Feb 14, 2008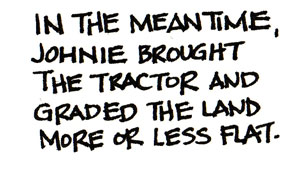 Here is the end of the prayer path; the edge of the property.
This is the site for the labyrinth. Near the altar and fire ring.
Feb 14, 2008
John McJilton and I walked out to the labyrinth site tonight. Gordon and Lexie and John's kids came out a little later. We got the dog-tie in the ground around sunset. Took three of us taking turns turning the metal corkscrew into the limestone-infested ground. We measured the circumference with the line, which was rewarding for me.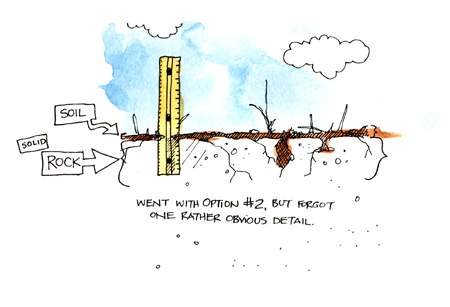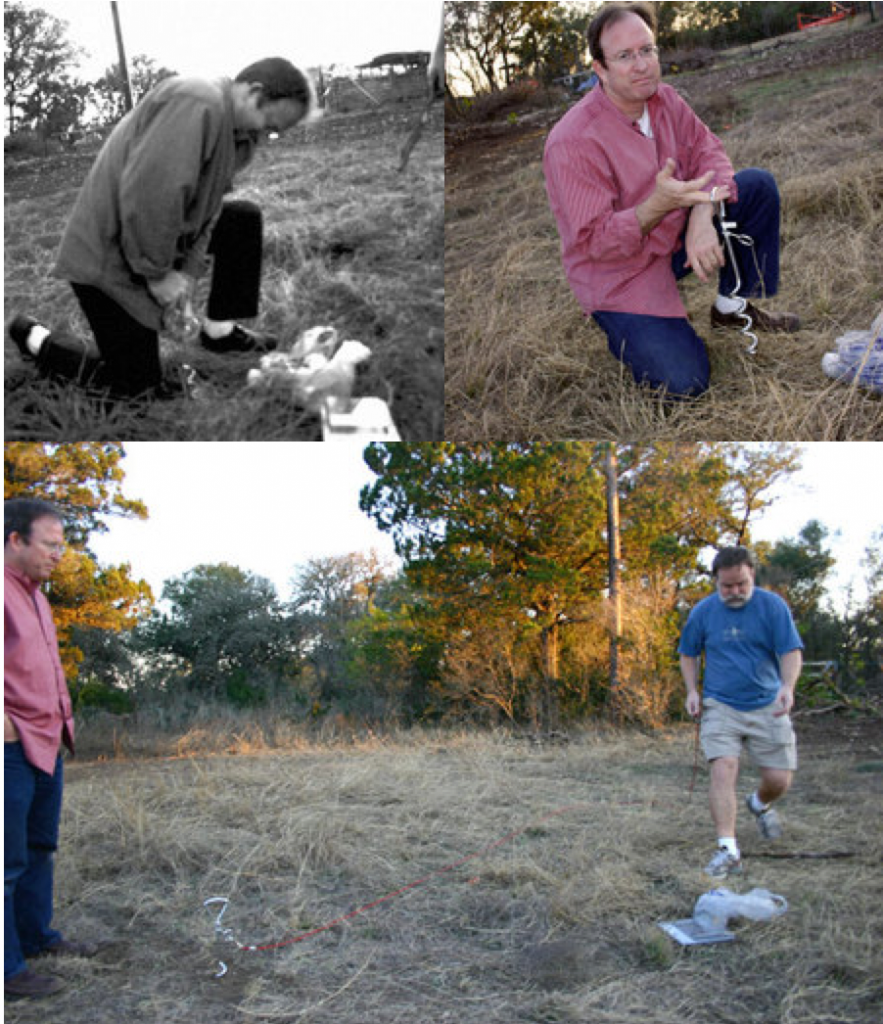 Feb 16, 2008
(with early measurements)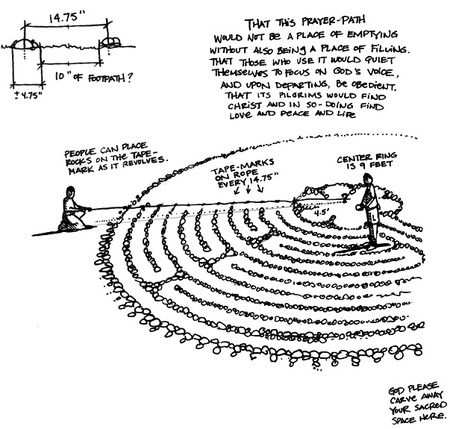 Mar 1, 2008
Finally.
Rain, illness, travel, and other hurdles had kept me from coming back to the labyrinth site until today. I borrowed my dad's gasoline-powered weed-eater and went to the back of the property this afternoon.
It was very peaceful. I was the only one there. It was really nice to be alone.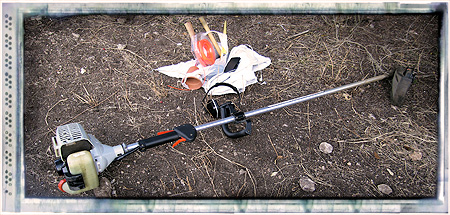 So for about the first hour this afternoon I used the weed-eater to chop off a bunch of dead shin- and knee-high grass. By about 4:00 it looked like this. The clump in the foreground is about an inch tall.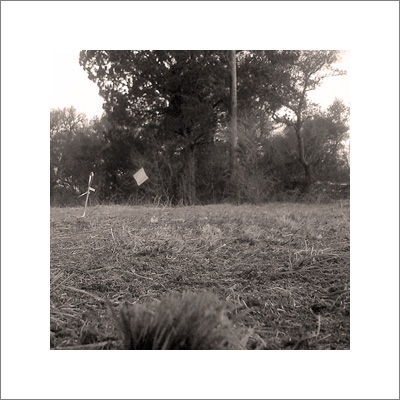 Next, I used this $4 rake to clear the dead grass away. This took about twice as long as I had planned; I got twice the number of blisters I had planned… But then, just as the sun had dropped below sight, I had finished — well, at least enough to rest. Just in time for a metaphoric shabbat.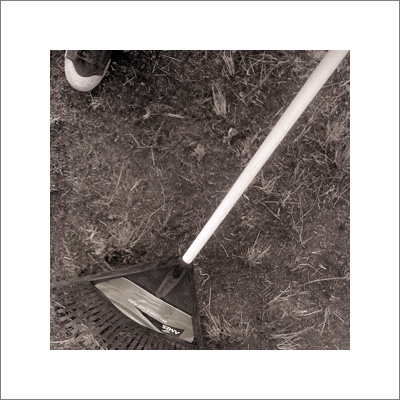 If you squint, you can kind of see the circle of the labyrinth starting to take shape. The prayer walk, off in the background of this photo, will lead straight into the Labyrinth. The center of the labyrinth will be where the surveyor's flag and dog tie-out are located, there in the middle of the composition.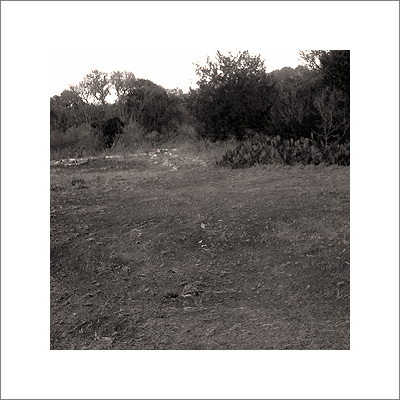 It's only after periods of exhausting physical labor that the God-phrase "It is finished" comes to mind. I think of Christ's work on the cross, and I think about the YHWH's work in the creation accounts. I think about resting after work, and I think about saying, "It is good" and letting it apply both to the end result and to the process of having worked hard.
Mar 5, 2008
…We had our first work day on Sunday …but bottom line: the labyrinth course was too small when executed [not unlike the stonehenge in this is spinal tap]. 36′ will work in flat terazzo or level pavers, but not in rock-lined footpaths. Lesson learned. Thanks to everyone who came and helped on the first draft. we got a section of the circle finished — based on completing about 80 degrees out of 360 in one hour. Second, larger draft coming soon. I almost don't have it in me to ask the kids to volunteer again.
April 12, 2008
I wanted to cross-post some photos Gordon and I took using his camera on Tuesday (see below).
The Labyrinth Project is progressing. On Tuesday evening, we went out to the site and roasted hot dogs (using the tripod legs of a music stand!) and worked on the labyrinth concentric circles (all measurements are now multiplied by 1.5).
For those of you keeping track, and wanting a new set of measurements, here's how it all shakes out:
11-course labyrinth
54 feet diameter
22.125 inch-wide paths
Center circle is 13.5 feet across
Adding the lunations, the total diameter comes out to approximately 57.75 feet. In the case of a 54-foot labyrinth, the measurement from the center to the first circle would be 6.75 feet. Then each additional path is spaced at 22.125 inches intervals.
Later on I will transform the concentric circles into a labyrinth by incorporating the switchback turns, also called labryses. Then, finally, we'll make petals or lunations.
I'm still thinking of placing a hinged wooden box thing at the entrance that would contain a guest book, a pen, and maybe some prayer suggestions?

April 16, 2008


labyrinth site as of 5:55 p.m., shot from the west
labyrinth site as of 8:20 p.m., shot from the east;
radius measuring cable with tape marks visible in foreground.
the hour growing late,
pregnant
with this project, with possibilities,
i lifted the front edge of my
tee-shirt to form a chalky cloth sling
i piled in hands full of
fist-sized limestone
three, nine, thirty-eight,
and i labored to stand,
grabbing my back,
looking and feeling
like a last-trimester mama –
and i laughed out loud.
this father of four births,
four umbilical incisions,
four afterbirths,
and one miscarriage,
waddling over to this
birthing site,
pacing in artistic anticipation,
wondering and worrying
about this strange,
forthcoming delivery
so many strong women
in my life,
many of them mothers,
and some of them
wing-waiting
i figured they'd all
laugh out loud
(perhaps my twin-bearing
mom the loudest)
to see me wrestle and
wrangle and huff
i came around
to where i'd left off
i couldn't gracefully
set my quarry upon the earth
so i squatted
and, valsalva,
let the stones
fall
a little lower than the angels
had the earth tonight been water
the concentric rippled labyrinth
might have serv'd witness enough
to the father son and holy ghost.
—p.r.s.
April 29, 2008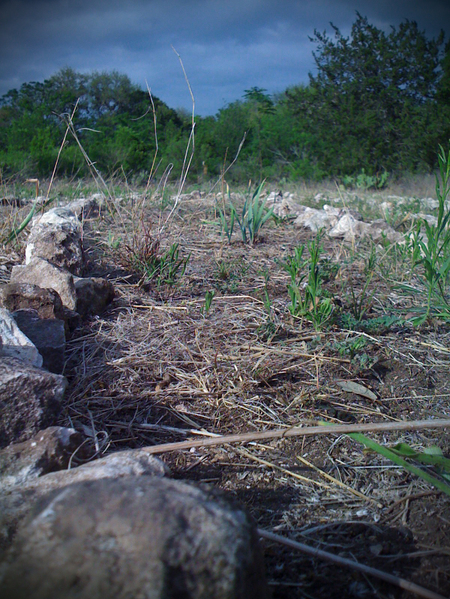 labyrinth, Texas style.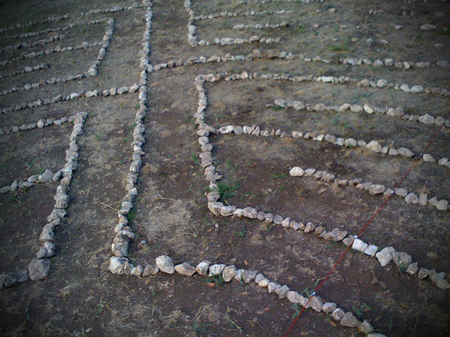 I couldn't help it: I started forming the switchbacks.
So I've been out to site twice since I wrote about it last. Once on April 20, for about an hour, and once again on Friday, April 25, for two-and-a-half hours.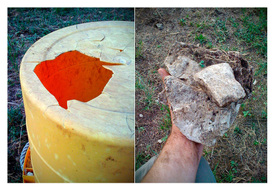 This last home stretch is the loneliest part. I even put in a plea for volunteer labor Sunday at church; this was [imagined as] a group project, a community undertaking, and I feel guilty for not being better at mobilizing and inspiring people to come out and co-labor.
Only a quarter of the 11-ring, 360-degree concentric-circle course, maybe 80 degrees, still needs filling in. Now that Jean Gomez's rock pile is depleted, I've strayed further and further up the property line looking for fertile outcroppings.
And the fault line that had always been quietly growing in the center of the bottom of the fishy-smelling plastic bucket has now become a hole, so I'm going to need to bring a new bucket up there next time.
It's interesting the amount of self-negotiating going on when I'm looking for rocks. For a similar amount of effort, I can either walk further on foot and get great rocks, knowing I'll have to lug them back in the bucket, or I can stay closer and work harder, kneeling down to glean the nearby area for usable rocks. I usually choose the former, but after about an hour of these trips, the whole thing seems futile, since I've maybe made a 10 to 12 degree arc's worth of progress and my eyes are stinging with the same sweat that has soaked my shirt through. Then there's the scorpions and unavoidable prickly pear needles that occasionally get lodged under the skin.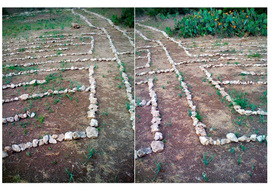 Once a 20- or 30-pound load has been hauled and dumped, there's the extra interior dialog about whether I should break my pace and kneel down (where it's easier for sweat to blur my vision) to position the new rocks or stay moving (where I might catch a breeze) and head back along the fenceline, having to avoid the cactii.
I don't want this to sound miserable. It's also a very spiritual time. Prayer happens. Remembering happens. Perspective happens. Breathing definitely happens.
But I always get impatient at about this point in any project I'm working on. I should have expected it.
May 4, 2008
It's not quite complete, the labyrinth.
But that didn't keep Kate's Sunday school class from checking it out.
This made my day.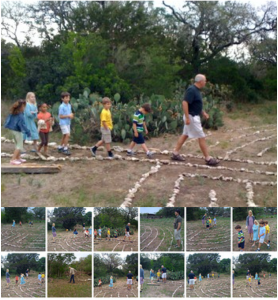 May 4, 2008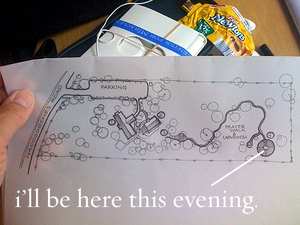 scorpion and two views of the flint scraping tool i found
May 5, 2008
It is [almost] finished!
This morning, Gordon and Jeanene finished up the last arc of the labyrinth (save a gap five stones in length, which they left undone for me to finish up on Wednesday night… a nicely symbolic number considering the giant undertaking).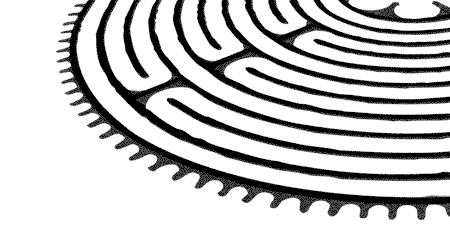 All that's left is (see drawing above) creating curvilinear endcaps on the labryses (switchbacks) and putting in the luminations (petals), and then I'm moving on to create some guided prayer sheets (hopefully a set for adults and another set for early readers) to have on hand in some kind of wooden mailbox or something there at the start of the labyrinth.
So I'm also thinkin' about that.
May 22, 2008
The labyrinth site in its own way is welcoming the opening strains of summer. All of the delicate growth of spring — the Texas mountain laurel (sophora secundiflora) and the tiny, succulent nopalitos and its flowers — have slowly stepped out of the limelight, giving way to more hardscrabble plants and patient grasses.
With the labyrinth now functional, focus shifts from the labor of creation to the labor of sustenance. The travails of childbirth are one thing; the feeding and caring of the newborn are entirely different.
The labyrinth will require ongoing weeding. We're looking into eco-friendly weed control methods. Natural outcroppings will also occur, require tending, digging, backfilling. At night, armadillos and other critters root for food under the labyrinth rocks, making slight displacements here and there, requiring an ecological dance. God watches it all and hopefully says, "it is good."
And the space is now available for you. If you're reading this, and you want to come out and experience the labyrinth, you'd be welcome. More than welcome. Over the next few weeks I'll be finishing up a walker's guide to the labyrinth, offering prayer and scripture suggestions, and placing them in a small, waterproof box at the entrance.
I took a lot of joy in watching people walk the path for the first time during the Franciscan Retreat this past weekend. On Saturday morning after Lauds, I went out to the path in complete darkness: when I emerged from the low canopy of the prayer walk it was still essentially dark — at 5:50am you can see the city lights in the distance — but by the time I got to the center of the labyrinth the cows were moving around and I could see pretty well. And by the time I came full circle, you could see just fine, though the sun wasn't yet visible over the treeline.